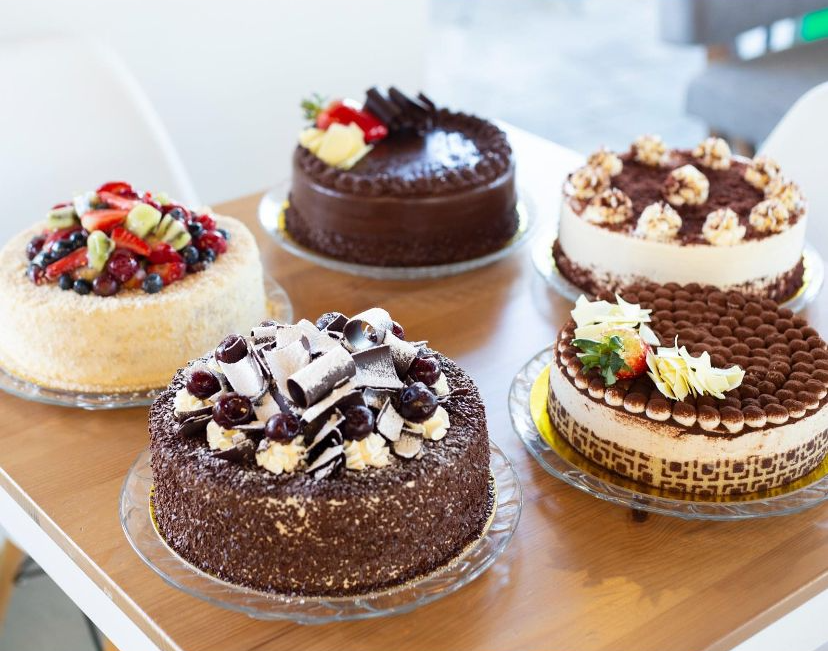 Where to buy cakes in New Westminster?
Whether you're looking for a squishy birthday cake or a flaky breakfast pastry, New Westminster's Take THE Cake has you covered. The Record talks to founder and pastry chef Lalit Pant about his hot cakes and cold shakes.
At Take THE Cake, Queensborough's relatively new bakery, rows of chocolate pies, scones, chicken pot pies and cheesecakes can put you in a sweet dilemma. How do you choose between the equally sinful slices of tiramisu, red velvet and black forest cakes?
It's hard; luckily, pastry chef Lalit Pant recommends fresh fruit and fresh cream cake, as well as his most popular chocolate truffle to this reporter.
Pant's cakes have been selling like hot cakes since he opened the store last September. For Mother's Day 2022 alone, Pant sold up to 100 mango cheesecakes.
"People come from White Rock, Maple Ridge and North Vancouver to buy cakes from us," says Pant, who has 22 years of baking experience.
Highlighting the irony, his wife, Anita Pant, says that before starting the bakery, they were the ones who went far to buy cakes because there were no options in the area.
Having worked in well-known hotels (like Taj, Grand Hyatt, Crowne Plaza and St Paul's) in India, the UK, Dubai, Oman, among others, Pant is well aware that taste preferences vary among people across the world.


What goes into making Take THE Cake cakes?
So when the Indian-born chef moved from England to Canada six years ago and saw the cultural diversity here, he set himself a mission: to make pastries that will satisfy everyone, regardless of their country. of origin.
In the chocolate truffle, for example, two different types of Belgian chocolates are used, he explains. Asians prefer sweet, so there is a slightly sweeter chocolate with 53% cocoa beans, and for Canadians and other cultures who don't like much sweet, there is chocolate with 73% cocoa beans. cocoa, he adds. It's a mixture of both.
"That way everyone is happy," says Pant.
Take THE Cake is Pant's first sole proprietorship (previously he worked for a catering company and ran a bakery with a partner). And he seems to give 100%. The first three months, he worked from 4 a.m. to midnight every day, with no days off in between.
It's been almost a year and he's still doing the work of four people, sometimes working 16-17 hour shifts.
"But it's his passion," says his wife. "He thinks of the bakery 24 hours a day",


Take THE Cake expands
With growing demand for his baked goods, Pant had to grow his team from two to 10 members. Soon, he says, Take THE Cake will expand to Metrotown, Langley, White Rock and, in a few years, to Toronto and Calgary, and beyond Canada to Europe, Dubai and India.
But for now, Pant has to take care of more pressing things: like making ice cream. He's been busy expanding his already extensive menu to include ice cream, ice cream shakes and cheese shakes.
Twenty novelties, including a thick double chocolate shake, a dark chocolate brownie shake, an Oreo cookie and a Ferraro Rocher shake and fruit-based frozen desserts and a mix of caramel cream and cookie crumble, will enrich the bakery menu over the next few months. .
you can follow Take THE cake new deals on their Instagram page to decide on your pick, or head to their store at 1110 Ewen Ave. at Queens Plaza in Queensborough, and order a chocolate truffle cake like this reporter did.