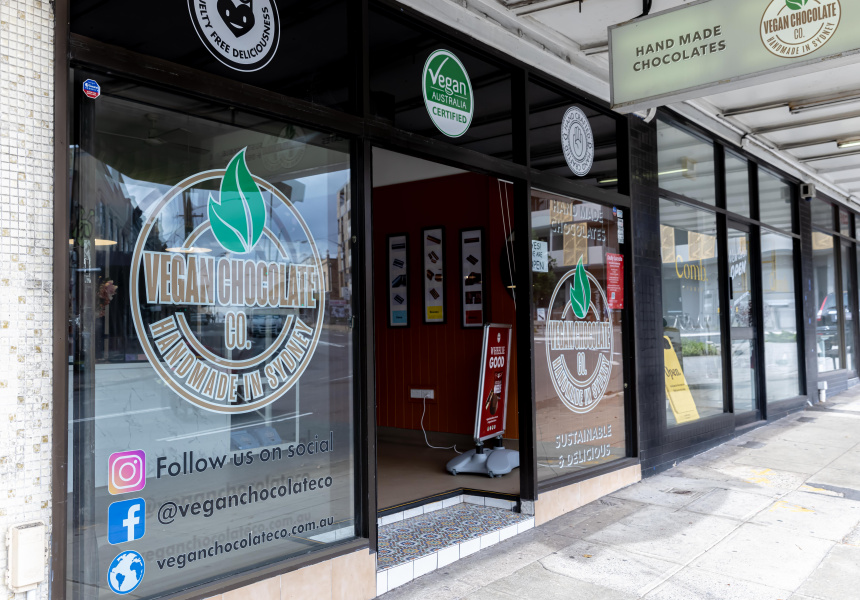 As the name suggests, Vegan Chocolate Co specializes in vegan chocolates, which owner Hamish Kelly makes by hand out of the back of his little shop in Dulwich Hill. Kelly said it took him three years of testing to perfect his basic chocolate recipe, which uses Ecuadorian fair-trade couverture chocolate and 4% refined sugar. The result is an incredibly low sugar chocolate that tastes convincing like the non-vegan equivalent.
Creations range from dark chocolate bars to playful versions of classics such as Wagon Wheels. Kelly's "Wheelie" combines two generous round cookies with raspberry jam and marshmallow sandwiched between them, before the whole thing is hand-dipped in rich cocoa butter.
Other temptations might include Chocolate Timmy (a layered cookie filled with honeycomb like a Tim Tam); V Wafer (wafer and chocolate layers approaching a Kit Kat); and shiny chocolate bars named Cherry, Coco and Sneaky – Kelly's vegan versions of a Cherry Ripe, Bounty and Snickers respectively. There are also fruit flavored chocolate bars available in passion fruit or raspberry, made from fruit pulp.
When you enter the simple storefront, you'll be greeted by a marble bench, glass display cases, and shelves filled with pre-packaged chocolate bars.