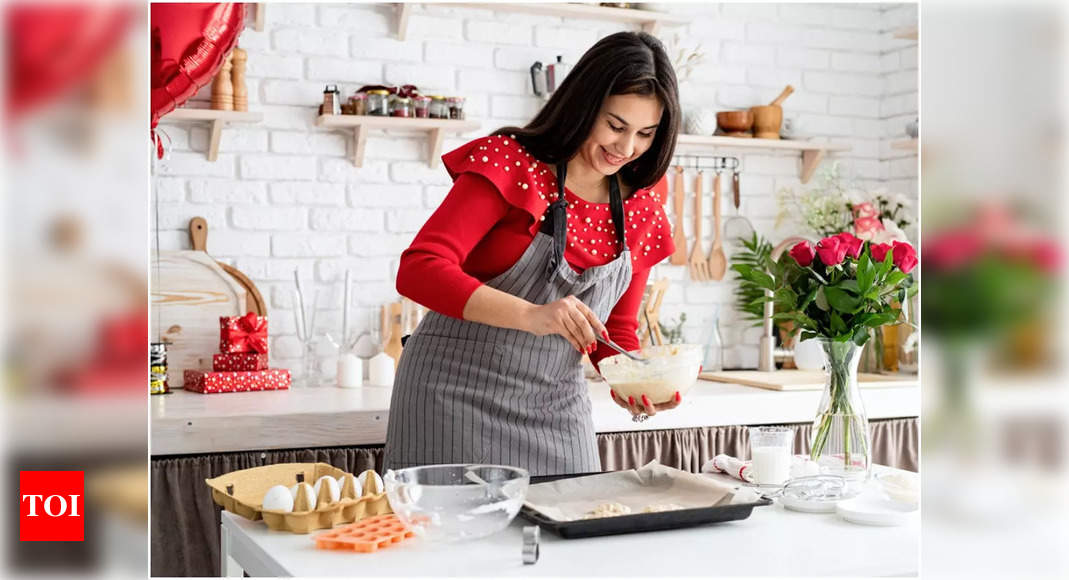 Valentine's Day: prepare these delicious desserts!
They say the way to a person's heart is through the stomach and we're sure your partner is a foodie! So, as Valentine's Day approaches, how about making her some delicious treats? We invited chefs and foodies to share some easy-to-make and totally delicious recipes. Plus, they look great on Instagram too!
RASPBERRY AND WHITE CHOCOLATE CAKES
If it's V-Day, can the cake be far behind? Chef Anees Khan shares a recipe that's also a visual delight…
For the foam
White chocolate (cover), melted – 150 g

Liquid glucose – 30g

Water – 30ml (A)

Agar-Agar, 8 g

Water (B) – 25ml

whipped cream – 150g
For the raspberry jelly
Sugar – 30g

Raspberry puree – 100g

Agar-Agar, 6g
For the red color spray
Melted white chocolate – 100g

Melted cocoa butter – 50g

Red soluble coloring in chocolate – a few drops
Method
For the jelly, line a 6-inch stainless steel ring with cling film. Cook the sugar, raspberry purée and sugar until boiling. Pour the cooked jelly into the prepared ring and put in the refrigerator for 3-4 hours.

For the mousse, line an 8-inch stainless steel cake ring with cling film and a thin layer of vanilla sponge cake. Bring the water (A) and the liquid glucose to the boil and add the melted white chocolate. Cook the agar-agar with water (B) until boiling and add it to the chocolate mixture. Cool and fold the whipped cream. If the top designer mold is available, layer with mousse and freeze in the refrigerator overnight or two hours in a blast freezer. Once unmolded, spray the design with red chocolate and cocoa butter

Pour remaining mousse halfway into prepared 8-inch cake ring and freeze for one hour. Place the prepared jelly on the mousse and pour the rest of the mousse. Pat and freeze overnight in the freezer or for two hours in a blast freezer

For the top floral design, mix the melted white chocolate, melted cocoa butter and red color into a homogeneous mixture and sift. Pour into spray bottle and spray frozen floral mousse and freeze again until ready to use.

To finish the cake, slide it out of the ring and place the floral mousse design on top. Garnish the cake with varq or and a few red chocolate hearts. Serve as fresh.
GULAB KI KHEER

Create an Indian touch with this one! Chef Sameer Gupta of ITC Grand Central presents his recipe…


Ingredients

Milk – 1.5 liters

Rice – 150g (soaked and lightly mashed)

Sugar – 180g

Rose petals (dried) – 5g

Rose water – 5ml
Method

Bring the milk to a boil then add the rice. Simmer and let the rice cook. Once the rice is about 90% cooked, add the sugar and cook together. When the rice is well cooked, the sugar dissolved and the desired consistency reached, add the rose petals and the rose water. Remove from heat and let cool. The dish is best served chilled.
SAY IT WITH CHOCOLATE

Culinary expert Moumita S shares two chocolate recipes you must try…


Strawberry white chocolate
Melted half kg of premium white chocolate in a bain-marie. First place the pieces of sweetened strawberries on the mold, then pour over the melted white chocolate.
Method for making soft and sweet strawberry pieces
Cut each fresh strawberry into four pieces, dip them in thick hot sugar syrup for a few minutes. The sugar syrup preparation ratio is: 4 teaspoons of sugar, 5/6 teaspoons of water. Keep on low heat for a few minutes. Place the chocolate with the mold in the freezer for an hour and it's ready. Can be stored in the refrigerator.
Dark chocolate flavored with orange and roasted nuts


Ingredients
Orange flavored dark chocolate

Roasted nuts, almonds, cashews
Method

Melt good quality dark chocolate in a double boiler (you can use as much dark as you like, I used 50% cocoa dark chocolate.) Add chopped toasted walnuts, almonds and walnuts of cashew. Add a few drops of orange essence to the melted dark chocolate. Pour into a heart-shaped mold and freeze for half an hour. Unmold and it's ready to serve. Can be stored in the refrigerator.
HEART-SHAPED COOKIES (without egg)

How about something crispy and sweet? The shortbread cookies fit in perfectly and chef Kairvi Mehta shows how to make them…

Ingredients

Unsalted butter, at room temperature – 1 cup

Powdered sugar – ½ cup

Salt – ½ tsp

Vanilla essence – ¼ teaspoon

All purpose flour – 2⅓ cups

Chips or chocolate chips – ½ cup

Melted white chocolate
Method
In a mixing bowl, take the butter, sugar, vanilla essence and using a hand mixer, mix it until light and airy. Add the flour and salt and mix by hand until everything is well incorporated. Move the dough to a large piece of parchment paper and roll it into a flat square, keeping the thickness about ½ inch. Take a heart-shaped cookie cutter and cut out cookie dough, place it on a greased baking sheet and bake for 15 minutes at 180 degrees. Leave to cool on the baking sheets. Melt white chocolate and decorate cookies in heart shapes and sprinkle with sprinkles or chocolates as needed.

Spread the dough on a large piece of waxed paper, form the crumbles into a square and roll it into a flat square keeping the thickness about ½ inch. Use a heart-shaped cookie cutter and make cutouts in the cookie dough. Place it on a greased baking sheet and bake for 15 minutes at 180 degrees. Let harden and store in an airtight container. Serve with a little mousse/hot chocolate/coffee.
FUSION PLEASURE: STRAWBERRY SANDESH PIE
Foodie Purabi Naha, who shared her recipe, said, "I wanted to do something that had a Bengali touch, so I decided to do a fusion with the traditional Bengali sweet called sandesh (shondesh). Since strawberries are suitable for Valentine's Day, I thought their pink color would be perfect in dessert. Here is my Strawberry Sandesh Tart which is made with curd and chenna or paneer.


Ingredients

Fresh curd (unsweetened) – 400g

Granulated sugar – 2.5 tablespoons

Hanging oak – 175 g

Strawberry syrup – 2.5 teaspoons

For the pie crust
Refined flour – 150 g

Salt – A little more than ¼ tsp.

Cold butter (cut into small cubes) – 100 g

Toasted sesame seeds – 2 teaspoons

Water – As needed, to bind the dough
For the strawberry reduction

Large strawberries (roughly chopped) – 4

Sugar – 3 tablespoons
For garnish

Blanched finely slivered almonds (toasted) – 2 tbsp
Method
To make the dough, mix the butter with sifted refined flour and rub it in with your fingertips until the mixture resembles fine breadcrumbs. Add sesame seeds and season with salt and knead with a little water to form a dough. Cover with cling film and refrigerate for 10 minutes.

Roll out the dough and line a 6-inch circular pie pan. Prick with a fork all over the base. Line the bottom with parchment paper or aluminum foil. Garnish with beans and blind bake in a preheated oven at 190°C for 15 minutes. Remove the beans after 15 min and cook for another 10 min. The bottom of the pie should be evenly browned. Cool to room temperature. While the pie shell is baking (in step 1), make the strawberry reduction by heating a frying pan and adding the strawberries over medium heat. When the strawberries are pasty, sprinkle with sugar and cook until the sugar melts and the strawberry reduction becomes thicker. Cool and puree. Add the granulated sugar to the suspended curd and mix using your fingers.

Mix the suspended chenna with the syrup and knead it with your palm until the chenna becomes very smooth and even. Mix it with the suspended curd-sugar mixture and knead it into a smooth ball. This becomes the filling.

Garnish the pie by pouring the strawberry filling into the pie shell. Rebake the tart for about 10 minutes at the same temperature (190°C) covering it with aluminum foil. Remove and let cool. Garnish with slivered almonds and sprinkle with strawberry reduction. Store at room temperature. Eat within a few hours, as refrigeration will make the pie a little soft.