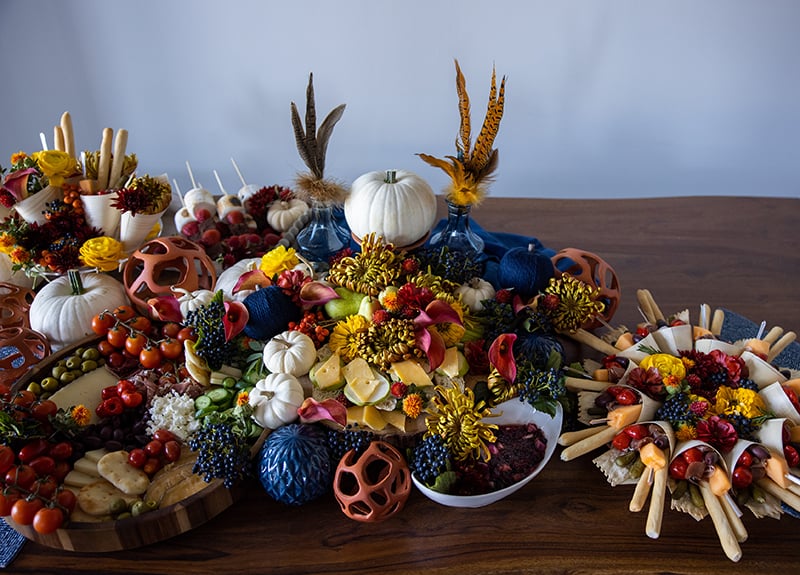 The New Family Style: A Holiday Guide for Charlotteans
[ad_1]
It's another Thanksgiving Covid, so there won't be any double dip or shared platters this season. But that doesn't mean you can't serve up your favorite holiday dishes. We called on Lindsay Anvik, co-owner of Baby & Butcher (301 Camp Road, Ste. 102, 980-216-4723), which specializes in grazing tables and deli boards filled with individually wrapped snack foods. She shows us how to serve mini-versions of old favorites in cones and mugs and on skewers so you can safely celebrate and treat yourself. Find additional tips from her throughout, as well as wine pairings and the best takeaways in Charlotte.
TOO:
> 8 distinctive wines to pair with classic holiday dishes
> A survey of the best takeaways in Charlotte
CM: What non-traditional holiday color combinations can I use for my centerpiece?
THE: I like a peacock blue or any other jewel tone. You can take this peacock blue and mix it with neutrals, oranges, or yellows while still making it feel like a vacation without it being obvious. Metals are another great way to have fun with your table. Think mercury glass candle holders with a deep royal purple and green as the centerpiece, or peacock blue vases and serving platters with terracotta light fixtures.
CM: What decorations and toppings can I add to my pasture table to make it look festive?
THE: Nature never goes out of style, so bring fresh fruit, branches, pumpkins and greens to pair with your serving platters and candles. You can add mousse to a centerpiece like a bowl of dough or leave it loose along your table like a table runner.
CM: What are the best seasonal fruits and vegetables to use right now?
THE: I love pears, tart apples, cranberries and figs. Fig season only comes a few times a year, so when it's there, I jump on it.
CM: What items can I prepare in advance for my deli board? What foods should I offer when guests arrive?
THE: You can make (or buy!) Hummus or any kind of dip, jam, or honey. It is best to cut cheese, wash fruits and vegetables, and slice meat. Put those items in the fridge and when your guests are about to arrive, you can take everything out and get everything organized quickly.
CM: What's the best way to display cones?
THE: The fastest and easiest way is on a platter. There are lights designed for cones, but for one-time use, arrange them on a beautiful tray and you will be good to go.
CM: What do you serve with citrus berry salsa?
THE: I love serving any type of salsa, dip or hummus with fresh bread. It smells good, it looks more filling, and it's often a nice addition to a table. You can serve it as is and slice it for people to enjoy, or bake it with olive oil, salt and pepper for a crispier option.
CM: Besides the cocktail napkins, are there any other accessories that I should have on my pasture table?
THE: Consider decorating the table as you would a room. It is important to commit to a color scheme. Add a splash of color to the table with your napkins or serving spoons to add vibrancy to the table. Bring out the fun serving utensils. You don't always have to use traditional or super fancy serving utensils.
---
The sweet place
COOL KID CROCKPOT HOT COCOA
INGREDIENTS:
8 ounces of dark chocolate chips
1/2 tsp. unsweetened cocoa powder
2 tbsp. pure vanilla extract
1/2 tsp. Granulated sugar
6 ch. whole or 2% milk (use skim milk for a lighter option)
2 ch. heavy cream
DIRECTIONS:
1. Add chocolate chips, cocoa powder and sugar to the slow cooker.
2. Then add the wet ingredients (milk, heavy cream and vanilla) and whisk until combined and smooth.
3. Cover and cook over low heat for 2-3 hours. Make sure to whisk it every once in a while to prevent the bottom from burning.
Lindsay's tip: Once you have served the children's cocoa, add 1/2 tsp. to 1 ch. of Kahlua or Peppermint Schnaps to the rest of the lot.
S'MORES HOLIDAYS
INGREDIENTS:
1 set of brownies (make ahead or buy at the store if you're pressed for time)
1 bag of large marshmallows
1 container of fresh strawberries (feel free to add a different fruit or berry)
Bamboo skewers (in many grocery stores)
DIRECTIONS:
1. Add strawberries, brownies and marshmallows to the skewers.
2. Follow the same pattern or mix it up.
3. Grill with a small kitchen torch or in a fire. Drizzle with chocolate or caramel syrup to add more sweetness.
For a larger group, create a Mediterranean grazing station with individual cones or cups to minimize hand-feed contact and the need for serving utensils
CNES DE CHARCUTERIE AND MEDITERRANEAN PLATES
PROVISIONS:
Your favorite meats, cheeses, fruits and sweets
Bamboo cones (make your own with kraft paper and double-sided tape, or use mugs if you're short on time)
DIRECTIONS:
1. Add cheese, fruit, or brine to the bottom of the cone to fill it. Fill with meat, fruit and other items so that there is a variety of flavors and colors. Serve in a tray and enjoy.
INGREDIENTS:
Cheeses: manchego, gouda, feta
Green and black olives
Peppers and tomatoes
Naan bread
Jamon or any other type of salted meat
OPTIONS:
Add hummus or get an olive stuffing and add blue cheese or garlic to your olives.
EDITOR'S ADVICE Lack of time ? Get pre-made pasture boards from local businesses like Babe & Butcher or Orrman's Cheese Shop.
CROSTINI PEAR GOUDA
INGREDIENTS:
1 large fresh baguette
1 to 2 pears, cut into thin slices or small wedges
1/2 lb smoked gouda cheese, thinly sliced ​​or into small wedges
Garnish: Honey or rosemary
DIRECTIONS:
1. Slice the baguette at an angle to give more surface to the pear and gouda.
2. Add pear slices first, then garnish with gouda.
3. Place in the oven to toast until the cheese is melted.
4. Add honey and / or rosemary to garnish. For an extra boost, add hot honey for the perfect blend of heat, sweetness and salt.
Don't feel married to using pears. You can use any type of tart apple, like a Gala or a Granny Smith.
AUTUMN SALSA WITH CITRUS BERRIES
INGREDIENTS:
12 ounces of fresh cranberries
1 tbsp. lime zest
1/2 tsp. green onions (finely diced, almost minced, so that the onions do not dominate the other flavors)
1 tbsp. Orange zest
Juice of 2 limes
1/3 c. honey (or 2 tablespoons of sugar)
Add salt to taste
Optional additions: 2 jalapeños (seeded and minced) and 1/2 tsp. coriander
DIRECTIONS:
1. Add all the elements in a food processor and mix until you get a thick salsa consistency. Serve immediately or refrigerate.
Lindsay's tip: Pour the salsa over the cream cheese for a tastier option. For more acidity, add more lime. For a sweeter salsa, use more orange juice and zest.
---
[ad_2]