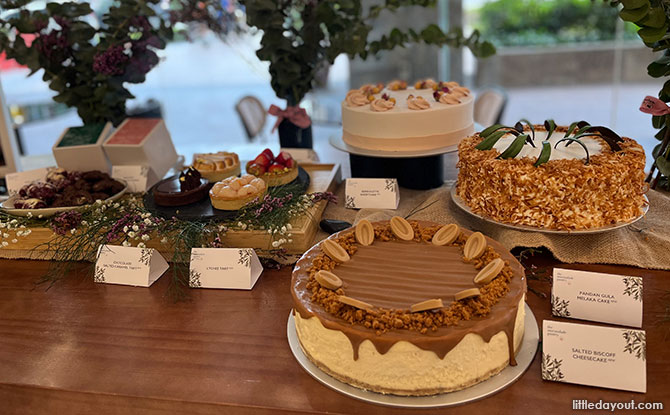 The Marmalade Pantry presents a mix of elegant treats: where sight and taste meet
Bringing irresistibly decadent eye-catching desserts with a plethora of new flavors and colors to our dessert plates, The new cakes, pies, afternoon tea offerings and gift sets recently launched by The Marmalade Pantry in June and July 2022 are a feast for the eyes as well as the taste buds.
Located in a cozy and bright corner on the first level of BHG Bugis Junction, his new casual outlet, The Marmalade Pantry Petite Bugis, is a lovely place to have tea and enjoy delicious pastries one at a time. This is where we spent a delightful afternoon enjoying a selection of cakes and pastries of choice, designed to please the most demanding taste buds.
---
Stylish treats at The Marmalade Pantry
whole cake business
The Berriolette Shortcake(12++ per slice, $90++ for 1.5kg) is a frosted beauty with cranberry whipped cream and rosebuds with delicate sweet golden balls on piped cream rosettes. This vanilla sponge cake sandwiched with freshly made jam made from raspberries and blueberries with a touch of violet zip injection to balance the sweetness of the shortcakehas an aftertaste of lingering floral notes that adds to its elaborate appeal.
---
REVEAL: Stand to win a pair of active noise canceling headphones
LILY: Get your kids outside and learn hands-on skills in nature
---
Next: an ondeh ondeh inspired cake reimagined in a sophisticated twist with a generous layer of toasted shredded coconut white golden brown curls. The Pandan Gula Melaka Cake ($11++ per slice, $88++ for 1.5 kg) is a splendid creation framed in wavy chocolate pandan leaves, inspired by the locals ondeh ondeh kueh was my favorite and looks set to become a classic. What's not to like about a light a pandan sponge covered with a delicate Chantilly cream and just the right amount of gula melaka, with the coconut shavings that give that extra crunch?
An upgraded take on the classic is a creamy, cinnamon, crumbly celebration of all things indulgence: Savory Biscoff Cheesecake ($12++ per slice, $90++ for 2 kg). A guaranteed hit with cheesecake lovers, with a border of crumbles, salted caramel sauce and Dulcey 35% Valrhona walnut couverture chocolate glazing the dense confection, its base of crushed Biscoff biscuit and salted caramel nuts has a Spicy and nutty hue for a boosted-up version to please cheesecake lovers.
Not to be missed, two revisited signature cakes: the Old Fashioned Chocolate Fudge Cake ($12++ per slice, $90++ for 2.7 kg) and marmalade carrot cake ($12++ per slice, $90++ for 6 lbs). A moist chocolate cake dressed in a 70% chocolate couverture glaze and chocolate ganache, we found this rather soft and dense for its intensity. The cream cheese glazed carrot cake with a generous amount of spiced carrot shreds and nut pieces was a juicy splash of contrasting textures and definitely a perennial favorite.
---
Assortment of cupcakes
We tried four different cupcakes ($6++ per cupcake) which was a fanfare of contrasting flavors.
Japanese Sencha had a slightly nutty and vibrant green tea flavor that tempered its sweetness. The lychee cranberry cupcake had light lychee notes with a swirl of cranberry cream cheese flavor. Hazel was a perfect chocolate cake paired with a rich hazelnut spread.
My favorite was Pistachio Raspberry Rose, a divine combination of a fabulously nutty pistachio cake with a refreshing raspberry rose aftertaste.
---
Cookies wrapped in

Minimalist white square boxes
Gold Dust Rocky Road Cookies and Red Velvet Cookies (8++ per 100g box) are bite sized mouth-watering treats, the old mix dark chocolate couverture with mini marshmallows and edibles powder coated gold finish adding a touch of glamorwhile the latter was a softer, softer white chic chocolate chip couverture and drizzle offers chic.
---
Exquisite tartlets exclusive to the Outlet
Our palette has been enriched with bursts of new flavors from a trio of pies exclusively served at The Marmalade Pantry Petite Bugis ($8.50++ each) and topped with fresh fruit or chocolate only to order.
The dough is delicate but solid, and the cream cheese and mascarpone the filling is rich but goes wonderfully with the juicy combination of lychees and dried flowers from the lychee tart and the delicious strawberry and hazelnut-tinted pistachio tart.
Bite into the sophisticated Salted Caramel Chocolate Tart with its accents of gold leaf, the chocolate filling and salted caramel ganache bring depth and dimension to the crust.
With textures that complement the taste, most flavor combinations are perfect and make for a delicious teatime affair. The new selection of cakes and artisan candle gift sets are available for purchase on-site and in-store at ION, Downtown and Bugis outlets respectively, or online for take-out and delivery, while the exquisite tarts are available exclusively at the Bugis point of sale.
To bask and bask in an abundance of sumptuous offerings where one discovers a floral-inspired palette blooming in a symphony of tastes!
I left with a cream piped smile on my face.
---
Collection of scented candles
Beyond gourmet offers, The new line of 'Bloom in Scents' from The Marmalade Pantry local manufacturing ecological artisanal soy and beeswax candles, available in two scents: Peony & Wild Freesia and Fig & Sandalwood, are lovely gift options with their presentation in respective pastel pink and teal concrete jars with a knitted design for a cozy feel and a sleek wooden lid. The Peony & Wild Freesia candle has a distinctive floral scent, with lingering base notes of raspberry nectar, sandalwood and musk. The Fig & Sandalwood alternative offered a more delicately fruity fragrance with fresh marine notes.
The Scented Duo Gift Set ($80) features both scented candles beautifully packaged in The Marmalade Pantry's custom woven bamboo purse (up to $38)
The Botanical Bliss Gift Set ($98) includes a choice of candles or a golden Moscato tea canister (80g) in The Marmalade Pantry's bespoke scarlet red woven rattan purse.
---
Combination of afternoon tea and gift boxes
Scented Duo Afternoon Tea ($143) and Botanical Bliss Afternoon Tea ($158), including The Scented Duo or Botanical Bliss Gift Set respectively, are only available at outlets. ION and Downtown sales or online for take-out and delivery.
Scented Duo Petite Afternoon Tea ($129) and Botanical Bliss Petite Afternoon Tea ($144), including The Scented Duo or Botanical Bliss Gift Set respectively, are available only at Marmalade Pantry Petite Bugis.
Each afternoon tea is presented in a two-tier stand with a host of sweet and savory such as Earl Gray Swiss Roll, Purple Yam Macarons, Cranberry Chicken Sandwiches, and more. The small afternoon tea features exclusive offerings such as shrimp crostini and Korean spicy chicken slider burger.
The marmalade pantry has been around since 1999, known for serving modern bistro cuisine like pasta, afternoon tea, signature cakes and cupcakes; and offering a repertoire of thoughtful gift ideas over the years.
Visit The Marmalade Pantry online here.
---
REVEAL: Stand to win a pair of active noise canceling headphones
LILY: Get your kids outside and learn hands-on skills in nature
---