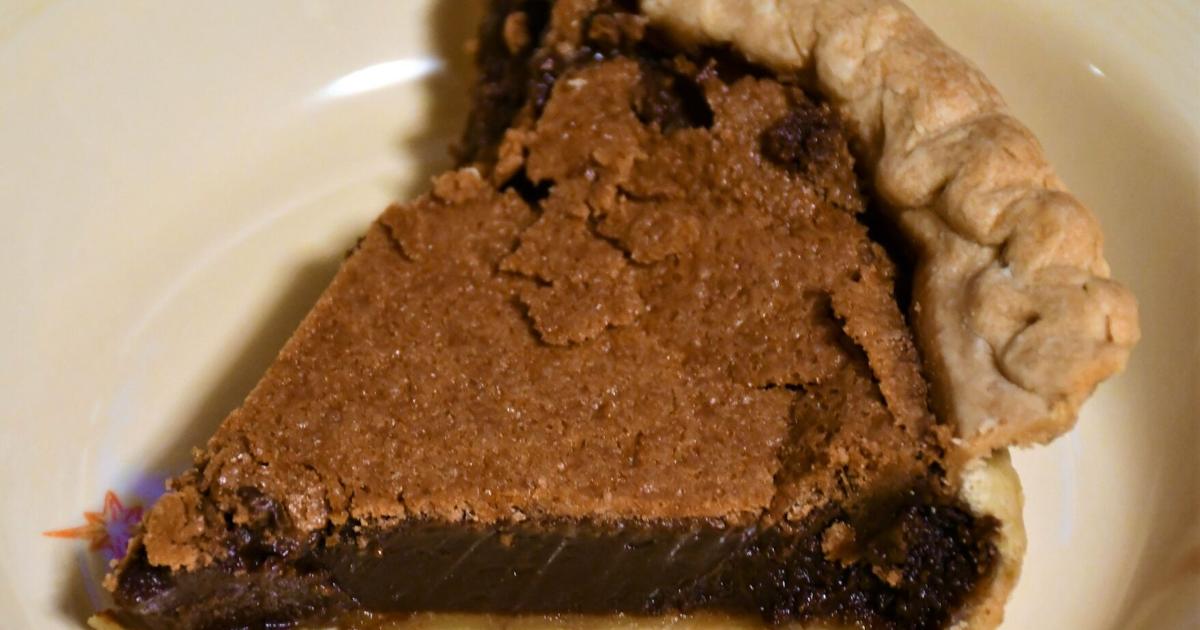 The Best Chocolate Pie: A Rebuttal | Family
I didn't know there would be a sequel to "The Best Chocolate Pie" until Cousin Phyllis phoned Mom last Monday.
She offered a rebuttal in the style of her own chocolate chess pie recipe, which she's been baking for over 50 years, maybe closer to 60.
"My Aunt Bonnie gave me this recipe when I got married," Phyllis (Hunt Manis) told me a few days later. "So I know I've been doing it for over 50 years."
I call Phyllis "cousin" like I call all my step cousins. She and my first cousin, Waymond Manis (son of mum's late sister, Ann Wallen Manis Addington) were married in the mid-1960s, when I was a toddler who lived to torment my 'new' cousin Phyllis, who, with her blonde hair and slender figure, I compared to Doris Day.
Phyllis has won many awards over the years for her cooking and baking skills. So I was not insulted that she called me to offer me the "real way to make a chocolate chess pie".
Her paternal aunt, Bonnie Hunt Justis, lived in Greeneville for many years where her husband owned a "gas station" and at one time had the contract to provide bus transportation for Eastman employees who needed to commute from Greeneville and surrounding areas at the plant every shift. every day.
They also at one time owned a grocery store in the Baileyton, Greene County area, Phyllis said, which somehow included her Aunt Bonnie preparing and serving food.
"Aunt Bonnie has always been a good cook," Phyllis said. "She has sent me many recipes over the years. But the chocolate chess pie was the first one she sent me when I was a newlywed. She said it's the easiest thing to do for packing somewhere in a hurry because you always have everything you need already in your kitchen — as long as you have Hershey cocoa. She said if you need pies to take away when there's been a death in a neighbor's family, toss two pies and get them and you can do it quickly.
The pie recipe I posted in my column last week is called Chocolate Chess Pie, and I highlighted how easy it is to make.
Phyllis said she didn't make the recipe I printed out, but she thought her Aunt Bonnie's recipe looked a lot easier and left fewer dishes and utensils to clean up afterwards.
"All you do is stir and bake and you're done," Phyllis said of her chocolate chess pie recipe, which is a favorite with her now grown daughters.
I tried his recipe yesterday. It turned out two beautiful and delicious chocolate pies. There are differences in taste and texture from the pie recipe I posted last week, from my great-niece Taylor and her mom, my niece Anne-Catherine Leone. They describe their recipe as a tribute to the famous chocolate chess pie served at Angus Barn Steakhouse in Raleigh, North Carolina.
Which pie do I recommend? Both. Each offers a rich chocolate flavor.
As for ease of preparation, I have to say that I think Phyllis' Aunt Bonnie's recipe had a few extra steps and, because I mixed it with a wooden spoon (as Phyllis pointed out) instead of an electric mixer, she was tiring.
However, the use of the spoon, or a powerful wire whisk if you have one, is a key factor in ensuring that the pies come out with the desired shine on the filling, when cut, and the hoped for crispy layer on top, Phyllis mentioned.
"Aunt Bonnie said you had to add the ingredients in the exact order of the recipe and stir in each egg separately – I always use a wooden spoon – or your pies wouldn't have that glazed look and crispy crust," Phyllis said.
This pie produced a slightly deeper filling, with a more pudding texture. But that would be thick pudding. Last week's recipe produces a more gooey, gooey filling.
I'm glad I have both recipes. I'm sure I'll use them many times in the years to come. Mom and I usually have all the ingredients for either recipe on hand, even frozen pie crusts.
Speaking of scabs, Aunt Bonnie made hers from scratch and if Phyllis entered a contest, she would do the same. But these days, like me, she uses "store bought" frozen food. I failed to mention last week that Taylor and Anne-Catherine make their crusts from scratch and gluten-free.
Good pastry!