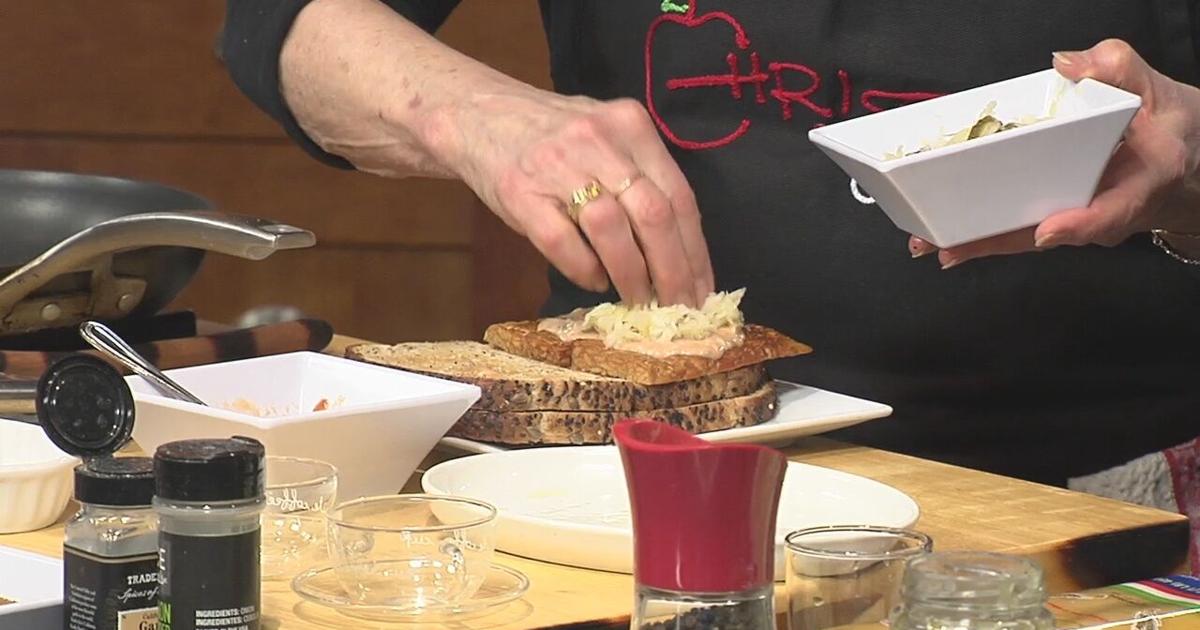 Sunrise Chef: Christina Pirello | Food and Recipes
For this edition of Sunrise Chef, the WFMZ team is joined by TV host, author and chef, Christina Pirello. She has an Emmy winning show on PBS called Christina Cooks.
Christina says the key to a good Reuben is the thousand island dressing. She made a vegan version for Team Sunrise. Dressing ingredients include:
1 cup vegan mayonnaise
1/3 cup natural ketchup (no sugar or artificial additives)
1/2 teaspoon garlic powder
1/2 teaspoon onion powder
Generous pinch of sea salt
3 tablespoons natural sweet pickle relish
Reuben
Avocado oil
8 oz block of tempeh, cut in half then in half-thicknesses, making 4 pieces
4 slices of whole grain bread
2-3 tablespoons of plain sauerkraut
To prepare this tasty dish, follow these instructions:
Set the dressing aside and pour oil into a pan to cover the bottom of the pan.
Place the tempeh slices in the oil over medium heat.
Bake until golden, about 4 minutes.
Turn and brown on the other side, about 4 minutes.
Transfer to a plate.
In the same skillet, place the slices of bread and lightly toast them.
Remove the bread from the pan and spread the dressing.
Place 2 slices of tempeh on the bread.
Spoon the sauerkraut over the tempeh.
Place another slice of bread on top to close the sandwich.
Slice diagonally and serve hot.
Christina also made Vegan Cacio e Pepe, a classic Roman pasta dish. The recipe contains few ingredients:
8 ounces of spaghetti
3 tablespoons of white miso
3 tablespoons extra virgin olive oil
3 ounces coarsely ground hazelnuts or macadamia nuts
Pinch of garlic powder
1 tablespoon black peppercorns
To make this pasta dish, follow these instructions:
Bring a medium pot of salted water to a boil.
Add the spaghetti and prepare the sauce.
Prepare the sauce by placing the miso, olive oil, peanuts and garlic powder in a skillet over low heat.
Cook, stirring occasionally.
Place the peppercorns in a small skillet and toast over medium heat until fragrant.
Transfer to a mortar and pestle and grind.
When the pasta is cooked al dente (about 7 minutes), transfer it (using tongs) to the pan with the sauce.
Add a few tablespoons of the pasta cooking water (if necessary) to make the sauce "creamy".
Add fresh peppercorns and serve.
Cook's tip: To grind the hazelnuts, toast them in the oven for 10 minutes; transfer to a towel and rub off most skins. Place in a food processor and blend until coarse.
If using macadamia nuts, no toasting is necessary; just grind the nuts in a food processor.
Finally, Christina prepared dessert for the Sunrise team.
Budino al Cioccolato is a creamy chocolate pudding without dairy or simple sugars.
Ingredients include:
1/2 cup coconut sugar
1/3 cup unsweetened cocoa powder
pinch of sea salt
Generous pinch of cinnamon
3 tablespoons arrowroot powder
2 cups organic oat or soy milk (unsweetened)
4 ounces coarsely chopped dark chocolate, non-dairy
1 teaspoon pure vanilla paste (or 2 teaspoons pure vanilla extract)
To make this dessert, follow these instructions:
Whisk together the sugar, cocoa powder, salt, cinnamon and arrowroot until well blended.
In a saucepan, heat the milk over low heat.
Stir in chopped chocolate and whisk until completely melted.
Stir in dry mixture and cook, whisking constantly, until pudding thickens, about 2 to 4 minutes.
It should be smooth, thick and creamy.
Divide the pudding into individual cups and serve warm or at room temperature.
Just before serving, top with chopped chocolate, chopped nuts or vegan whipped cream.