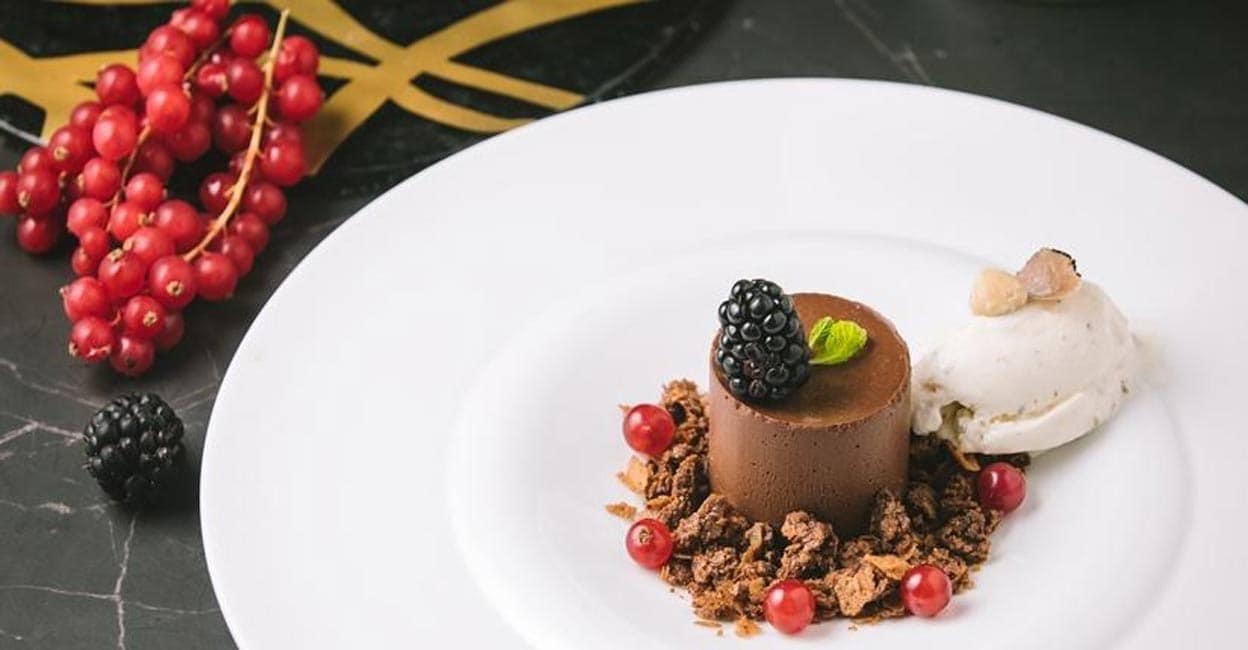 Recipes to conquer hearts this Valentine's Day | Recipe | Food
It's the season of love – a celebration of grand gestures, sweet indulgences and memories made with someone special. Celebrate this Valentine's Day with special recipes curated by experts for your loved one.
Strawberry Cream Cheesecake by Executive Pastry Chef Selva, The Westin Koregaon Park
Ingredients
800g cream cheese
800g milk
248g butter
80g cornstarch
168g flour
6g salt
400g egg yolk
800g egg white
460 g of sugar
8g cream of tartar
2 lemon zest
2 vanilla pods
Strawberry confit
350g strawberry purée
160 g of sugar
Preperation
Put a water bath, melt the butter, add cream cheese, milk. Once melted allow to cool
Once cooled, add the egg yolks
Add all your dry ingredients (cornflour, flour, salt, lemon zest, vanilla)
Beat your egg whites and sugar, add it to your mixture
Bake at 150 degrees for 30 minutes
Glaze it with the strawberry confit.
Chocolate Texture by Paul Kinny, Culinary Director, The St. Regis Mumbai
Ingredients
300 g dark chocolate (70% Guanaja Valrohna)
150g milk chocolate
1000 g heavy cream
300 ml whole milk 4% fat
6g Maldon salt
100g organic honey
2 vanilla pods
chocolate spray
200g dark chocolate couverture 54.5%
200g cocoa butter
chocolate earth
200g dark chocolate (Callebaut 54.5%)
100 g caster sugar
40ml water
Preperation
In a glass bowl, measure the milk chocolate and dark chocolate and set aside
Scrape the vanilla pod with a sharp knife and add it to a heavy-bottomed saucepan with the leftover pod
In the same skillet, add the heavy cream, whole milk, Maldon salt, honey. Bring to a boil and cover for about 15 minutes to let the vanilla infuse its flavor into it
pour the liquid over the measured chocolate and mix to obtain a fine mixture (little tip: discard your vanilla remains before mixing)
strain the mixture through a fine mesh strainer (small tip: make sure that no air bubbles remain during this process)
immediately fill the mixture into molds and freeze overnight
Add the measured dark chocolate pellets to a bowl and set aside
In a heavy-bottomed saucepan, coarsely chop the cocoa butter and add to the pan, heat until the butter is completely dissolved
Pour the warm melted cocoa butter over the dark chocolate and mix well
Add activated charcoal powder to achieve desired color
Blend in a smooth blender using a hand blender, strain through a fine mesh strainer, set aside
Fill the spray mix into a portable spray gun (quick tip: make sure the mix is ​​at 40 degrees Celsius before spraying to get your product brittle)
Before unmolding your pebbles, spray the base of the stones
Unmold all the chocolate texture on a silmat, spray the chocolate texture, making sure to cover every corner
In a heavy-bottomed saucepan, add sugar and water, cook until soft ball consistency
Add the dark chocolate, whisking constantly making sure to reach the sides of the pan
Cook for a few minutes to make sure all the chocolate is well incorporated.
Turn out onto a silmat and let cool to room temperature.