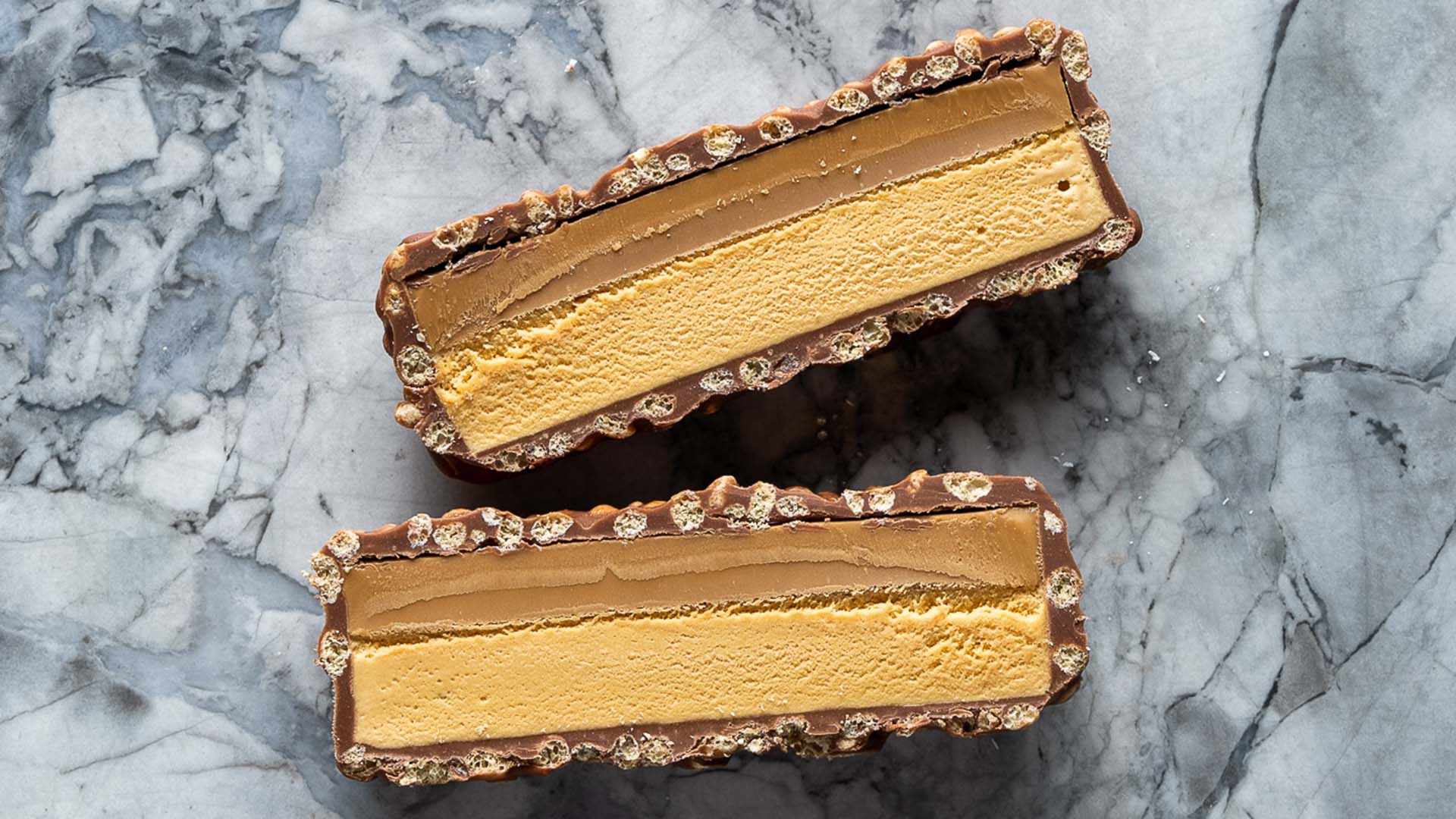 Messina is serving Gelato Bounty and Chokito bars for a single day on James Street this weekend
When you were a kid, did you want all your favorite chocolates to be turned into ice cream? You might have it, but you also might have been perfectly happy to poke fun at the bars you liked whenever you got the chance. Both are acceptable. That said, as any Gelato Messina fan knows, the dessert chain has spent a decent amount of time not only debating whether a bunch of childhood favorites should get the gelato treatment, like Iced Vovos, lamingtons, Coco Pops and more, but actually to follow through.
Here's the latest example: Bounty and Chokito gelato bars, which are a real thing you can treat your taste buds to in Brisbane this week. They are called "the bounty hunter" and "chok-it-out-now" respectively, and the former features salted caramel ice cream and chocolate fudge, which is coated in milk chocolate frosting and with bubble rock rice – and the second goes with fluffy coconut and salted coconut ice cream, coated in a dark chocolate glaze
The problem? Like almost all Messina specials, they're here for a while, not for long. As the James Street Food and Wine Trail is finally bringing its big culinary feast back to New Farm this month after two pandemic-hit years, Messina is knocking down these Bounty and Chokito gelato bars as part of the trail's market day.
While the whole food and wine festival takes place from Thursday July 28 to Sunday July 31, market day only takes place on Sunday. You will then find the bars offered from 10 a.m. to 6 p.m.
You'll also need to go to the Messina Market Day Stall, which you'll find between McLachlan and Arthur Streets, rather than its store on James Street.
And yes, it'll fill that Messina-shaped void you might have in your freezer right now if you ordered some of his special pots when he served 40 of his greatest gelato hits in June, but you got them all eaten already.
Gelato Messina take-out and bounty-hunt bars will be on sale from 10 a.m. to 6 p.m. on Sunday, July 31 at the James St Food and Wine Trail. For more information, visit Messina site.