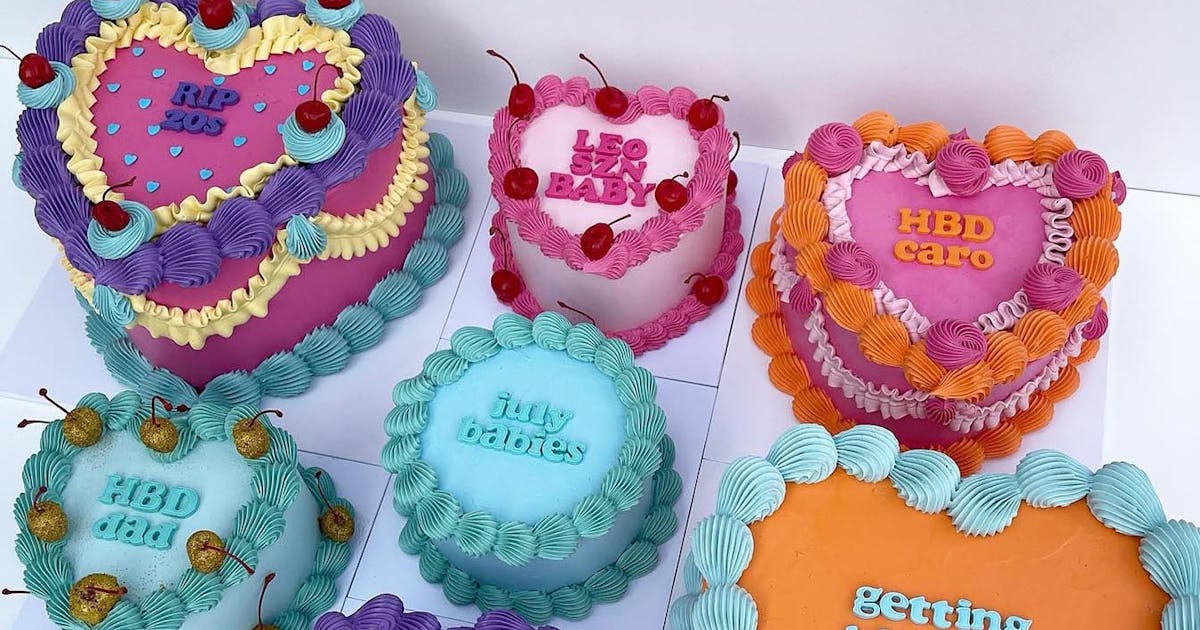 Here's how you can score a slew of limited-time free desserts in the CBD
The only thing better than treats are free treats. From donuts that make your mouth water, to retro cakes that turn your eyes into cartoonish love hearts, Perth's CBD is about to be brimming with amazing ways to get your sugar fix.
140 Perth brings the big guns from across Perth's dessert scene to the CBD to deliver top-notch sweet treats to the masses. A range of special treats will be available for purchase throughout the takeover program, and if you arrive early you can score them for free. Yes really. Read on to find out who will appear in the enclosure and what kind of gifts you can score.
Perth Cake Collective | October 12 and 19 | 11 a.m.–2 p.m.
Owner Ashleigh Vaughn will be bringing her beloved retro cakes and cake boxes to 140 Perth for two days in October. With the signature cheeky messages on top, Perth Cake Collective's striking cakes will have you swept away in no time. During the pop-up, 40 of the incredible mini retro heart cakes that can feed up to 15 of your best buds will be offered to the first 20 people in line (that's 20 per day).
The Grass-Fed Donut |
2 and
November 9
|
11 a.m.–
2 p.m.
The name does a lot of work for this vegan donut shop. The Bayswater-based store will set up shop in November to bring its cruelty-free treats to the town centre. The Plant-Based Circular Candies will come in a bunch of delicious flavors available for purchase. Additionally, the first 100 people in line over the two days will score a donut on the house. Yum.
cinnamon |
23 and
November 30
|
11 a.m.–2 p.m.
After starting pop-up shops and market stalls, Cinnayum established its official cinnamon rolls store in Joondalup. Here, you can copy everything from classic sticky cinnamon rolls in blueberry, raspberry, and white chocolate flavors to next-level peanut butter cups. Be one of the first 100 people in line and you'll win a free bun.
Pastry crumbs | February 8 and 15 | 11 a.m.–2 p.m.
Julia Buri, Perth-born pastry chef and owner of Crumbs Patisserie, trained at Heston Blumenthal's famed London restaurant, The Fat Duck, before launching her pastry shop in Perth. Back home, she now focuses on creating edible art. Head to 140 Perth to try the limited-time "Citrus Got Real" dessert, a "lemon parfait sphere, filled with a center of raspberry and lemon creme,
sprayed with Crumbs yellow couverture white chocolate on a snow bed of lemon thyme frozen yogurt – unreal! You can also get your hands on one of its unreal honey croissants. And, if you're one of the first 100 to tip, you'll get your croissy for free.
Want to check it out? Entrance to 140 Perth is via Railway Lane located on the corner of William Street and Murray Street Mall in the Perth CBD. For more information on the event, go here.
Image credit: provided, @perthcakecollective, @cinnayum_au, @thegrassfeddoughnut
This article is sponsored by 140 Perth and proudly endorsed by Urban List. Please support the sponsors that make Urban List possible. Click here for more information on our editorial policy.