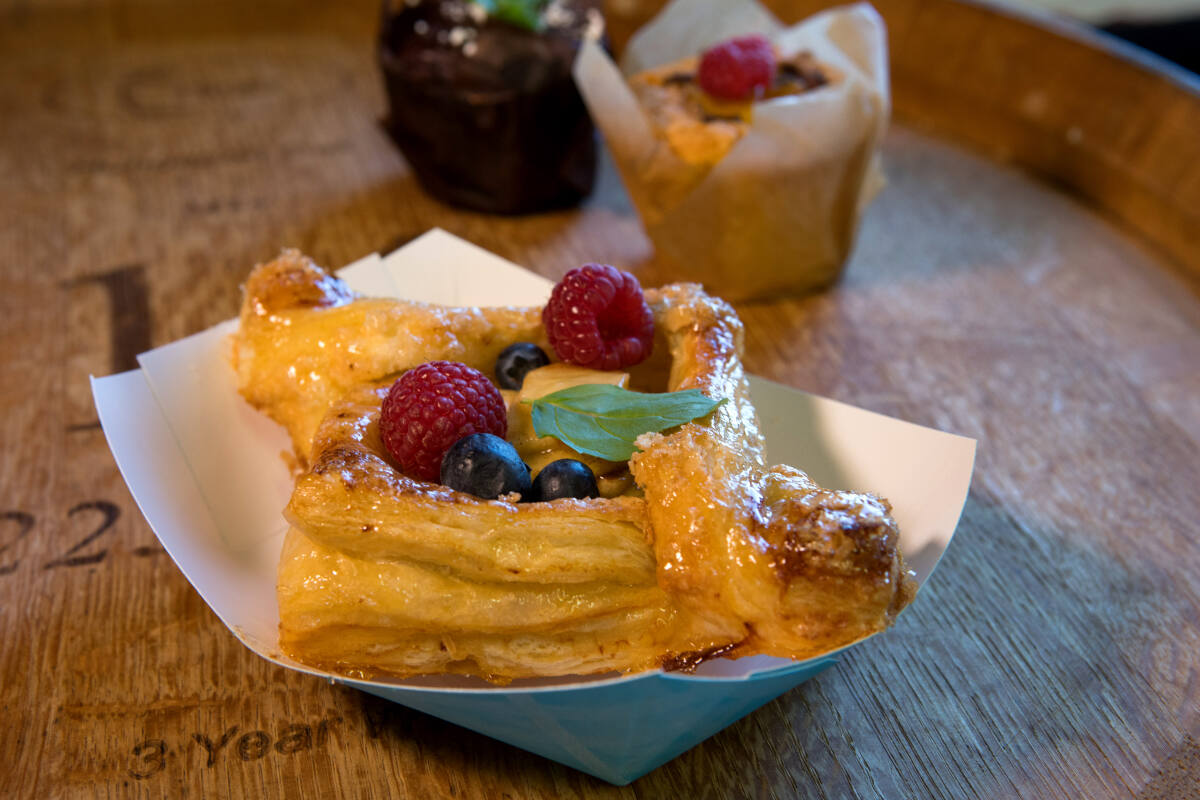 Grand Central Petaluma celebrates the flavors of South America
Empanadas and cocoa
At Grand Central Petaluma, the theme of the world continues through the decor, with Andean items like brightly colored handmade ponchos, flutes and maracas. On a black chalk wall inside the cafe is a colorful map showing the regions of the world where cocoa and coffee commonly grow.
The building tucked away on Weller Street was built in 1904 and was a railroad ticket depot for passengers traveling through Sonoma County until the 1930s.
Inside, the inviting aroma reminds Juan Carlos of his childhood in Ecuador, where he was surrounded by the earthy, bitter smell of cocoa plantations.
Theobroma cacao, also known as the cocoa tree, produces cocoa beans used in chocolate liquor, cocoa solids, cocoa butter and chocolate. The word "theobroma" means "food of the gods".
"Cocoa is considered a gift from the gods," said Juan Carlos. "It is one of Ecuador's greatest natural resources."
Their favorite drink is their cardamom mocha, prepared with a blend of locally roasted medium roast coffee for an "afternoon coffee" taste, as well as pure cocoa powder and homemade cardamom chocolate ganache.
"We're going to add our homemade whipped cream and top it off with cocoa nibs (crushed cocoa beans)," Juan Carlos said.
"Usually the chocolate you eat is 3% cocoa and the majority is milk and sugar," Natalie said. "We wanted to focus on the raw material (cocoa) and take advantage of it. People can sweeten their drinks to their liking. I've always hated getting a mocha that's too sweet.
When you visit, ask for the secret menu drink Ai Chai Chai, a chai tea with espresso, topped with cocoa nibs. It's a play on the word "achachay", the Kichwa expression (Ecuadorian dialect) for "I'm cold".
In addition to their most traditional beef empanada, all of their empanadas blend various South American flavors and spices. They make their empanada dough the Argentine way – with flour, although other empanadas are made with corn (Colombia) or green plantains (Ecuador).
Among their savory pastries, a customer favorite is the chicken empanada – shredded chicken, organic tomatoes, green peas and aji amarillo, a spice commonly used in Peru and Ecuador to season seafood and meat. For a golden touch, whip an egg yolk and comb the empanadas before baking, Natalie said.
"I spoke to a chef at an Argentinian restaurant I worked at for advice, but then I started experimenting with different South American flavors and started creating my own recipes," said said Juan Carlos.
For a touch of flavor, the empanadas are served with chimichurri sauce, an uncooked sauce from Argentina and Uruguay, made with chopped parsley, minced garlic, olive oil, oregano, flakes red pepper and red wine vinegar.
When France's iconic dessert meets Ecuador's precious natural resource, the result is Vinuezas chocolate mousse. This beloved dessert is best eaten at room temperature and is offered in the fall and winter at the café.
They are working on creating a eucalyptus flavor to add to their mocha lattes; eucalyptus grows widely in Quito. It will be like a regular mint mocha latte, but more earthy and pure.
Grand Central Petaluma's menu offers a variety of empanadas: ham and cheese, beef, guava and cream cheese, chicken and vegetables, starting at $6. For vegan eaters, a vegan and gluten-free empanada made with pumpkin paste, green lentils, basmati rice, shiitake mushrooms, sofrito, vegan cheese and butter is served for $8.
The cafe is open from 8 a.m. to 3 p.m. Tuesday through Sunday. Located at 226 Weller Street in Petaluma. Online at grandcentralpetaluma.com.
Grand Central Petaluma sells 10 and 50 gram cardamom chocolate bars in the cafe. It is better to use raw organic cocoa powder instead of processed Dutch cocoa powder. Also use medium roast espresso beans for a balanced taste.
Cardamom mocha
Makes a 12 oz cup
2 ounces hot water, or just enough to melt the chocolate
Tablet of 10 grams of chocolate with cardamom 63%
1 tablespoon raw cocoa powder
1 teaspoon of sugar
2 shots of espresso
6 ounces whole milk or milk of your choice
whipped cream, for garnish
Cocoa nibs, for garnish
Pour hot water over the cardamom chocolate bar until it melts. Add raw cocoa powder and sugar, stirring continuously.
Pour the 2 shots of espresso over the melted chocolate and stir for 30 seconds. Steam the milk and pour it over the chocolate mixture.
Add whipped cream and cocoa nibs for decoration.
You can find aji amarillo paste at the Ortega Market in Santa Rosa and other Latin American grocery stores. Empanada dough discs are also available at Latin grocery stores.
Chicken empanadas
Makes 12 empanadas