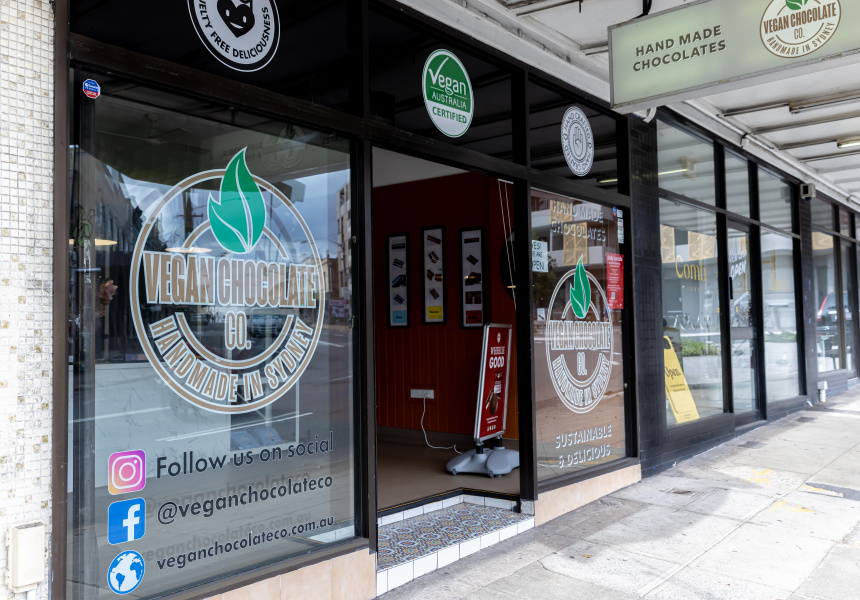 Get beautifully handmade vegan chocolate bars at Dulwich Hill's Vegan Chocolate Co
Since the start of the pandemic, millions of people have quit their jobs in search of more meaningful occupations, in a trend dubbed the Great Resignation. But Hamish Kelly was a bit ahead of the curve: Six years ago he gave up his job to train as a chocolate maker and founded Vegan Chocolate Co. He opened a storefront in Dulwich Hill in mid-2021, in middle of Sydney's lockdown.
"I was tired of doing boring things and wanted to do real things, and I was looking at my options. Everyone who knows me knows that I'm very creative and going to do things, so I signed up for courses and trained to be a chocolate maker," says Kelly. Large format.
As the name suggests, Vegan Chocolate Co specializes in vegan chocolates, which Kelly makes by hand in the back of the small store. Kelly, who is switching to a vegan diet for health reasons, said it took her three years of testing to perfect her basic chocolate recipe, which uses fair trade chocolate couverture from Ecuador.
"I spent a lot of time mastering the recipe, which uses four percent refined sugar, making it one of the lowest sugar chocolates on the market," he says. "I think when you taste the product, you won't even know it's vegan."
Creations range from dark chocolate bars to playful versions of classics such as Wagon Wheels. Kelly's "Wheelie" combines two generous round cookies with raspberry jam and marshmallow sandwiched between them, before the whole thing is hand-dipped in rich cocoa butter. "I asked the food technologist who made the cart wheel to help me make the [vegan] marshmallow," Kelly says.
Other temptations include Chocolate Timmy (a layered cookie filled with honeycomb like a Tim Tam); V Wafer (wafer and chocolate layers approaching a Kit Kat); and shiny chocolate bars named Cherry, Coco and Sneaky – Kelly's vegan versions of a Cherry Ripe, Bounty and Snickers respectively. There are also fruit flavored chocolate bars available in passion fruit or raspberry, made from fruit pulp.
The simple storefront features a marble bench with glass display cases, shelves filled with prepackaged chocolate bars, and bright orange walls.
Beyond the current product line, Kelly is experimenting with making pralines, including one with a vegan chocolate shell filled with a velvety hazelnut paste. It also plays with cocoa pulp, a natural honey-like sweetener made from the white flesh that surrounds the cocoa beans inside the pod. Opening a second store is also on the agenda for Kelly, who plans to move to Melbourne.