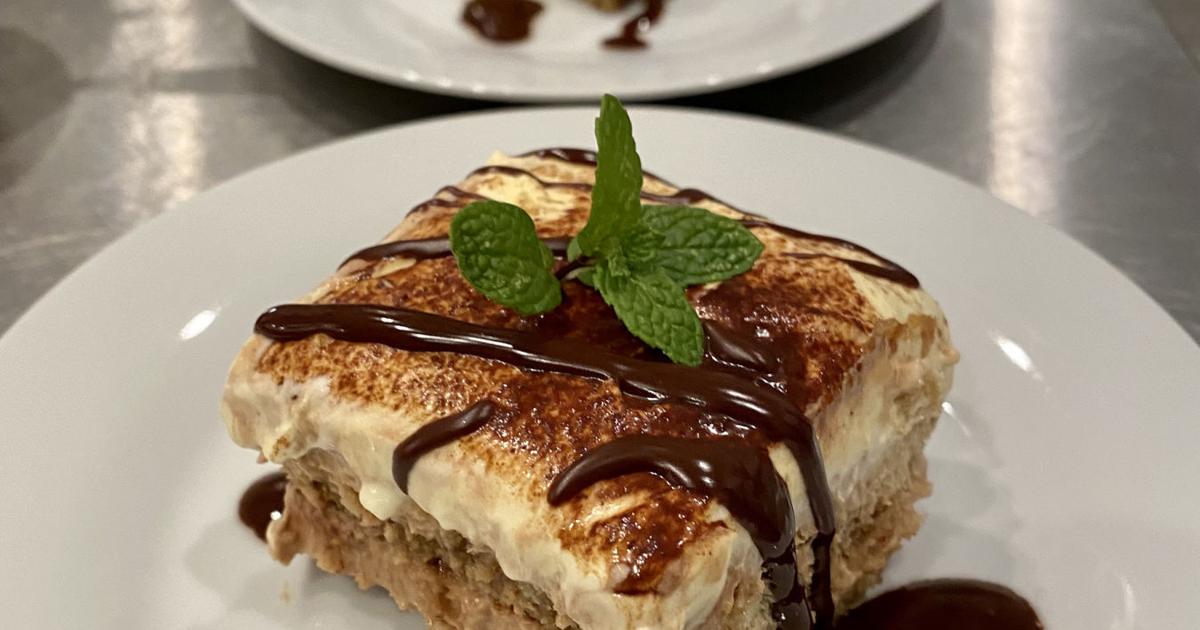 Dust off that old recipe… | Columnists
As with fashion, food trends seem to recycle over time.
And as we see the styles of the 70s and 80s come back with a vengeance, we also see the decadent dishes of that era come back into favor with the chefs.
Desserts usually set the pulse on food trends. I recently dusted off a dessert I hadn't made in decades as the finale to a Supper Club dinner party and was pleasantly surprised with the result.
Tiramisu was the darling of Italian restaurant menus back then and well worth reviving, especially with the chocolate twist. I also like to add Kahlua, but to be more family friendly this can be omitted as the liquor does not cook and the alcohol remains.
Tiramisu is said to have originated in the Tuscan region of Italy in the early 1800s as an after-dinner aphrodisiac. Food historians debate its true creator, who argues between a duke or a lady of disrepute.
Tiramisu literally means "come and get me". This rich and creamy dessert always has an espresso or coffee that provides a kick after a heavy meal. Crispy Italian biscuits or finger biscuits are dipped in espresso or coffee, then topped with an egg sabayon cream and dusted with espresso powder. I like to use powdered Ghirardelli chocolate to dust my chocolate tiramisu for a sweeter dessert.
This week I've included my Chocolate Tiramisu recipe. It takes a little time to assemble and chill, but it's a great way to please a crowd with a creamy, rich dessert with a blast from the past.
If you have a cooking question, contact me at [email protected]ail.com and I'd be happy to help!
Cheryl Orr is the chef and owner of the Cotton Gin Inn in Edenton.
• 12 egg yolks, at room temperature
• 6 tablespoons heavy whipped cream
• ¾ cup dark chocolate, chopped
• 18 ounces mascarpone, room temperature
• 2 cups heavy whipped cream
• 3 tablespoons of vanilla
• 1 ½ cups powdered sugar, divided
• 2 cups of brewed and cooled coffee
• ¼ cup vanilla coffee syrup such as Torani
• 2 7-ounce packages of crispy finger biscuits such as Savoiardi
• In the microwave at low temperature or in a double boiler on the stove, combine cream and chocolate and melt until smooth in a glass bowl. Set aside, keep warm.
• In a large glass bowl, whisk together egg yolks, Marsala, salt and sugar until smooth. Place the egg yolk mixture over a saucepan of barely simmering water and continue beating, until the mixture is thick and creamy, and falls back on itself in thick ribbons when the whisk is lifted, approximately 8 minutes. Be careful not to stop whisking so that the egg yolks do not become scrambled eggs. This step creates a sabayon. Remove the sabayon from the heat and immediately add the melted chocolate, stirring until completely incorporated. Cover and refrigerate until chilled.
• Whip cream, ½ cup icing sugar and 1 1/2 tablespoons vanilla until stiff peaks form. Put aside.
• Whisk the mascarpone, remaining cup of powdered sugar and remaining 1 1/2 tablespoons of vanilla until creamy. Fold the whipped cream into the mascarpone mixture using a spatula.
• When the sabayon is cold, incorporate half of the mascarpone mixture, reserve the other half and leave to cool in the refrigerator.
• Prepare a 9 x 12 inch pan with plastic wrap. Line and overlap the wrap so it extends up the sides for easy dessert removal when cooled. Sprinkle cocoa powder on bottom of prepared pan with plastic wrap.
• In a large shallow dish, combine coffee, Kahlua and vanilla syrup. Start dipping the ladyfingers into the coffee mixture and line them up side by side, filling the bottom layer of the pan. Gently spread half of the sabayon mixture over the cookies. Sprinkle with cocoa or chocolate. Repeat with another layer of ladyfingers dipped in the coffee mixture, and spread with the remaining sabayon and sprinkle with cocoa. Freeze uncovered for a few hours until firm to the touch. Once firm, spread the last layer of the reserved mascarpone mixture on top of the tiramisu and sprinkle with a final dusting of cocoa powder. Return to freezer uncovered until set, about 3 hours.
• When ready to serve, carefully lift the firm tiramisu from the mold and place it on a large cutting board. Slice into squares. Garnish with a drizzle of chocolate ganache or syrup and mint. Leftover tiramisu can be refrigerated for up to 3 days. This dessert can be made the day before and refrigerated once taken from the freezer.