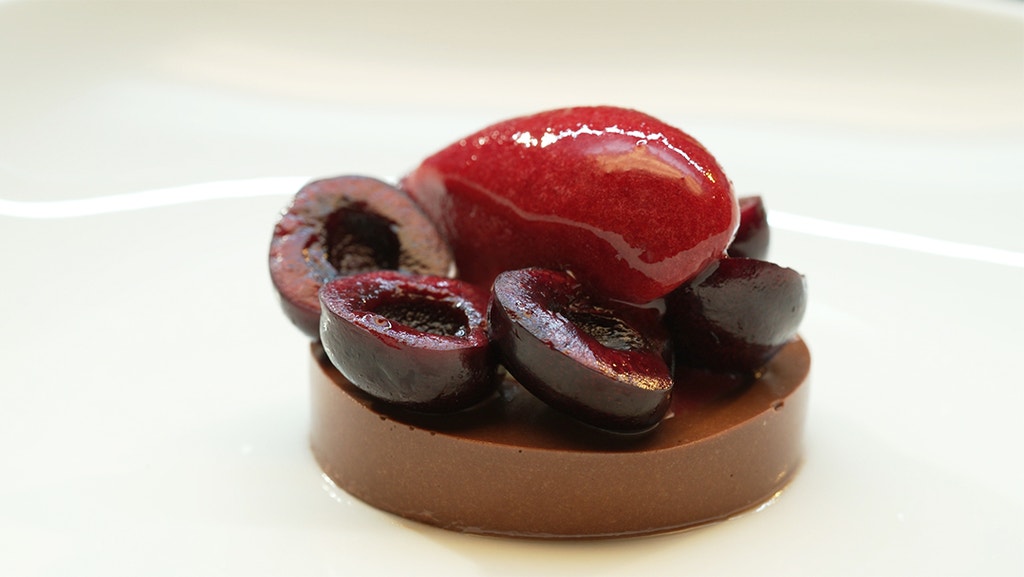 Creamy Chocolate Cherry – Network Ten
Not
Precool an ice cream maker.
For the chocolate cream, combine the two chocolates in a medium heatproof bowl and set aside.
Put the cream in a saucepan and bring to a boil over medium heat. Meanwhile, whisk egg yolks and sugar until pale and thick.
Slowly add the hot cream to the egg yolk mixture and whisk until incorporated. Transfer the mixture to a saucepan. Stir continuously over medium heat until the mixture reaches 84oC.
Remove from the heat and pour over the chocolate. Let stand for one minute then stir until chocolate is melted and mixture is smooth.
Pour the cream into 10 x 7 cm round silicone moulds. Level the surface and remove the excess with an offset spatula. Freeze until solid, about 2 hours.
Remove the crémeux from the silicone mold and place them on serving plates and reserve in the refrigerator until ready to serve.
For the cherry sorbet, thaw the cherry puree in the microwave in 1 minute intervals until completely melted. Add glucose and lemon juice and whisk until well blended.
Store the mixture in the refrigerator until it cools.
Pour into the ice cream maker and churn until thickened. Transfer the sorbet to a container, cover and set aside in the freezer until ready to serve.
To serve, place the crème fraîche in a piping bag.
Pipe about a teaspoon of fresh cream in the center of each cream and place 6 cherry halves on top.
Finish with a few flakes of fleur de sel and a small rock of cherry sorbet. Serve immediately.