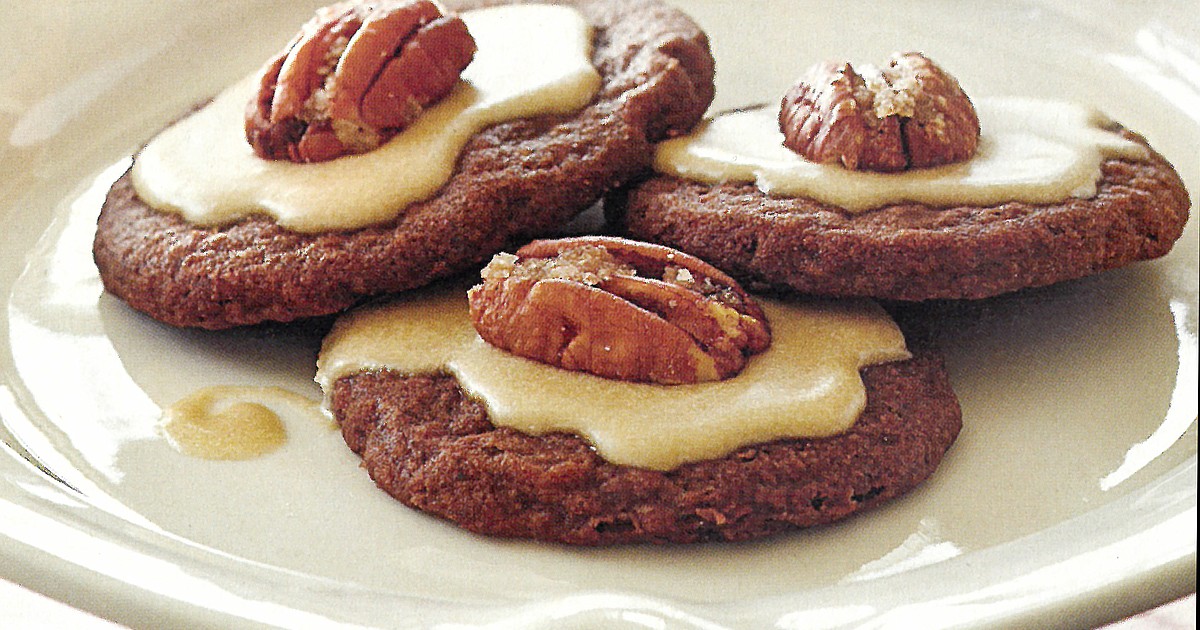 Cookies are the perfect Halloween "goodies"
[ad_1]
As Halloween approached, I thought about the junky treats and candies they usually get as gifts. How about good homemade cookies? I agree that crumbling in a treat bag can be a problem, but it looks like it could be overcome with the use of small paper bags or coffee filter holders. Of course, if you are having a party, there is no problem. Anyway, I found a lot of cookie recipes and whether you hand them out or eat them yourself, here they are. Enjoy!
Pumpkin Nut Cookies with Ginger Cream Frosting
2½ cups of flour
½ teaspoon of baking soda
¼ teaspoon of salt
2 teaspoons of pumpkin pie spice
1 cup firmly packed dark brown sugar
¾ cup butter, softened
1 large egg
1 cup canned pumpkin
1 teaspoon of vanilla
1 cup of raisins (optional)
1 cup walnuts, finely chopped
Set the oven to 350 degrees. Combine first 4 ingredients in medium bowl; put aside. In the bowl of the mixer, mix and combine the sugars, then add the butter and beat well. Scrape down sides of bowl and mix again. Add the egg, pumpkin and vanilla; mix until light and fluffy. At low speed, stir in the flour mixture. Stir in raisins and nuts until evenly distributed. Drop by tablespoonfuls on an ungreased cookie sheet, about 2 inches apart. Bake for 20 to 24 minutes or until a tester in the center of the cookie comes out clean. Cool and freeze.
Ginger Cream Cheese Frosting
3 ounces of cream cheese, room temperature
4 tablespoons of butter, room temperature
Little ¼ teaspoon ground ginger
2 to 2½ cups icing sugar, sifted
2 tablespoons (or more) of water
Beat cream cheese, butter and ginger together until light and fluffy. Add the icing sugar and dilute with water to the proper spreading consistency. Spread the frosting on each cookie, garnish with half a pecan or walnut as shown.
Note: For a spin or treat, forgo the frosting and half the nuts.
Chocolate-coconut macaroons
2 squares of unsweetened chocolate
2 tbsp. Butter
1/2 cup granulated cane sugar
2 eggs, lightly beaten
1/4 tsp. salt
1 C. vanilla
2 1/3 cups (approximately) grated coconut
Set the oven to 325F. Lightly butter the cookie sheets. Melt chocolate with butter over very low heat in a heavy-based saucepan, stirring constantly until smooth; remove from fire. Stir in the sugar, eggs, salt and vanilla; beat well. Carefully fold in the coconut. Drop a teaspoon onto prepared baking sheets, leaving 1 1/2 inches in between. Bake for 15 minutes. Cool on wire racks. Makes about 3 dozen.
Chocolate cookies
(About 4 dozen)
2/3 cup softened butter
1 cup of pure cane sugar
1 & 1/2 c. vanilla
1 egg
1 1/2 cups unsifted flour
1/2 cup cocoa powder
1/2 tsp. baking soda
1/4 tsp. salt
1/3 cup buttermilk
Set the oven to 350F. Lightly grease a cookie sheet. Cream butter and granulated sugar in a large bowl. Stir in the vanilla and egg. In another bowl, combine the flour, cocoa, baking soda and salt. Alternately add the flour mixture and buttermilk to the creamy mixture. Drop by full teaspoons 2 inches apart on a prepared baking sheet. Cook 7-9 minutes; remove to a wire rack to cool. Frost if desired. *
Tip: Turn any cookie into a "thumbprint" cookie by pressing a depression in the center of the cookies (I use a thimble) before baking. Right out of the oven, you can place the filling of your choice in the still hot depressions. Chocolate kisses, pumpkin candies, corn candies or a nut are all possibilities.
Apple and oatmeal cookies
1/3 cup EACH olive oil, brown sugar, molasses
1 egg
1 cup of white flour
½ teaspoon EACH baking powder, baking soda
¼ teaspoon of salt (if desired)
¼ teaspoon EACH nutmeg and cinnamon
1 cup of peeled apples, grated
½ cup chopped dates
1¼ cup quick rolled oats
Preheat the oven to 400 degrees. In a large bowl, whisk together oil, sugar, molasses and egg.
In another bowl, sift the dry ingredients and mix. Add to the oil mixture. Stir in the apples, raisins and oats and mix the ingredients well. Drop in rounded teaspoons about 2 inches apart on lightly oiled baking sheets. Bake for 10 minutes or until edges are lightly browned; remove to a wire rack to cool.
Our final recipe may be the best Trick-or-Treat deal ever!
No-Bake Sweet / Salty Triple Chocolate Drops
8 ounces of white chocolate chips
1 cup (6 ounces) of milk chocolate pieces
1 cup (6 ounces) semisweet chocolate chunks
1 ½ cup chopped pecans or walnuts
1 ½ cups of broken pretzel sticks (1/2 inch)
Gently melt the first 3 ingredients in a heavy-bottomed saucepan over low heat, stirring constantly. When completely melted and smooth, remove from heat and immediately stir in nuts and pretzels. Drop by heaping tablespoons on lightly oiled waxed paper. Chill in the refrigerator for at least 1 hour. Store in an airtight container in the refrigerator for up to 1 month. Makes about 1 dozen.
Valle Novak writes the Country Chef and Weekend Gardener columns for the Daily Bee. She can be reached at [email protected] or by phone at 208-265-4688 between the hours of 8 a.m. to 7 p.m.
[ad_2]