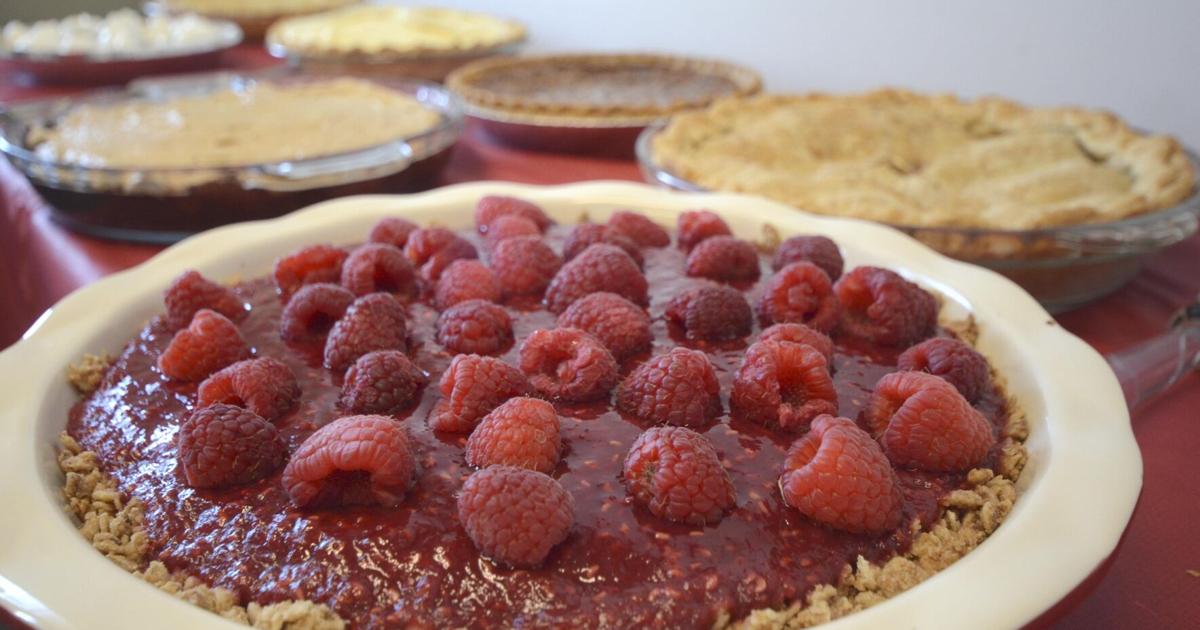 Celebrate National Pi Day — Host Your Own Pie Contest | arts and culture
Does anyone really need an excuse to eat pie?
That's not the case here at the Berkshire Eagle, but sometimes we like to celebrate random holidays, like Pi Day (March 14) by having a pie contest.
The features department has called out to the entire press room for anyone – who feels so inclined to participate – to bake a 9-inch pie for the contest. The rules were simple: you could use a store-bought crust if you felt like it, but the pie itself had to be homemade, and it could be sweet, savory, traditional, or original. The pie is the limit, so to speak.
Nine delicious pies were lined up on the table in our communal conference room on Monday afternoon, ranging from a sweet peach pie and banana cream, to two variations of a sugar-free apple pie recipe and mini tarts with an oatmeal crust. Everyone was invited to stop for a slice of each pie – and really, one slice was all one needed by the time they reached the seventh, eighth, ninth pie – then vote by secret ballot for the best presentation and the best overall pie.
Winning pie recipes are printed here. But the real winners were the staff members who got to sample these delicious pies while taking a well-deserved five-minute break with colleagues on plates stacked with fluffy crusts and a fruity filling.
In the end, the best pie overall was a dead link between our editor Dave Coffey's sweet and delicious raspberry oatmeal cream pie and the editor Dave Coffey's decadent and rich peanut butter pie. Chief of Content Engagement Lindsey Hollenbaugh. Dave's pie was a landslide winner in the presentation category – no one could resist the fresh fruit garnish with perfectly placed raspberries welcoming thoughts of a spring thaw just around the corner.
If you're looking for an excuse to eat mounds of pie, host your own pie contest at work or with your friends. All you need is a few bakers, or bakers-in-training, ready to bake a pie. Bring plates, forks, napkins – and maybe some milk to wash it all down.
Raspberry oat cream pie
Ingredients:
For the dough:
3/4 cup all-purpose flour
1 1/2 cup rolled oats
1/4 cup packed brown sugar
1/4 tsp salt
1 stick unsalted butter, melted
For the cream filling:
1/4 cup cornstarch
4 eggs (Dave used duck eggs as they are a bit richer)
2 cups of milk
1 tablespoon of vanilla extract
2 tablespoons salted butter
For the fruit filling:
4 cups of fresh raspberries
1/2 cup granulated sugar
1 orange
Pinch of salt
Directions:
Heat the oven to 375 degrees.
To make the crust, combine the flour, oats, brown sugar and salt in a food processor. Drizzle with melted butter and pulse to make moistened crumbs. Transfer mixture to a 9-inch pie pan and press crumbs evenly onto bottom and sides. Bake until lightly browned – about 20 minutes.
While the crust is baking, prepare the cream filling. In a medium saucepan, whisk together the cornstarch, sugar, and eggs and whisk until frothy and no lumps remain. Add milk and whisk again to combine. Cook over medium heat, stirring and scraping the bottom and sides of the pan constantly, until the mixture comes to a boil and thickens – about 7 minutes. Add vanilla extract and butter. Once the crust and filling are done, pour the filling cream into the crust and spread evenly. Press a piece of plastic wrap directly onto the surface of the custard and refrigerate until cold – about 2 hours.
Then prepare the raspberry filling. Zest and juice the orange. In a small saucepan over medium heat, combine the sugar, orange zest and juice, salt and half the raspberries. Bring to a boil and cook, stirring frequently, until the fruit is broken down and slightly thickened – about 20 minutes. Remove from heat and let cool.
Finally, spread the fruit filling evenly over the surface of the cream filling. Arrange the rest of the raspberries over the entire surface of the pie.
Peanut Butter Pie
Ingredients:
For the dough:
6 tablespoons unsalted butter, melted, plus more for the pan
¾ cup granulated sugar
¾ cup unsweetened cocoa powder (not processed in the Netherlands)
½ cup all-purpose flour
½ teaspoon kosher salt
For the filling:
1 ¼ cup heavy cream
1 ½ cups smooth, sweet peanut butter
1 full-fat 8-ounce block cream cheese, at room temperature
2/3 cup light brown sugar
1 teaspoon pure vanilla extract
½ tsp kosher salt (if using regular processed peanut butter, skip the salt as it already has added salt)
Directions:
Make the crust: heat the oven to 350 degrees. Generously butter a standard 9-inch pie plate. In a medium bowl, whisk together the sugar, cocoa powder, flour and salt. Add the butter, stir and mash with a fork, until the crumbs are evenly moistened.
Transfer crumbs to prepared pan and press evenly into bottom and sides until crust is about 1/4 inch thick. Bake the crust until it looks dry and set, 10 to 12 minutes. Transfer pan to wire rack to cool completely, about 30 minutes.
Make the filling: In a large bowl, whip the cream until stiff with an electric mixer on medium-high speed. Put aside. In another large bowl, beat peanut butter, cream cheese, brown sugar, vanilla and salt on medium speed until fluffy, about 2 minutes. Use a large rubber spatula to gently fold the whipped cream into the peanut butter mixture. Transfer the mixture to the prepared pan and smooth the top. Refrigerate uncovered for at least 4-6 hours, until filling is set.
This story was first shared in 2017.