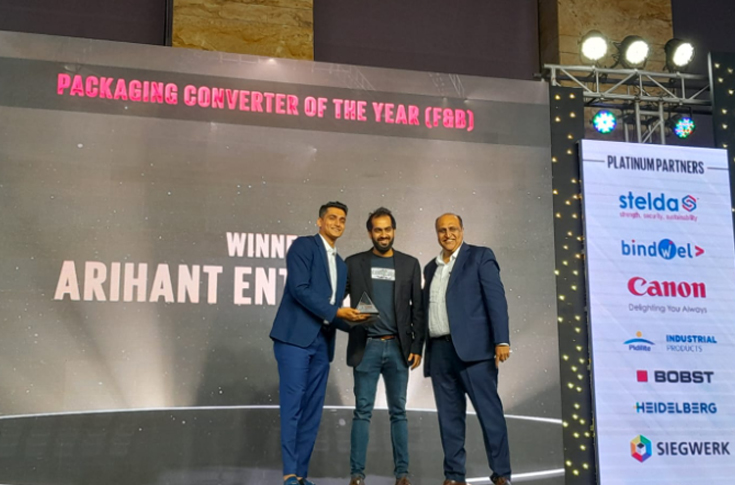 Arihant Enterprise Wins Packaging Converter of the Year (F&B) Award

Arihant Enterprise, the Vasai-based packer, presented four packaging samples that impressed the judges.

Arihant produced two samples for client Whole Truth Foods, both produced using mono cartons for dark chocolate and milk chocolate. For dark chocolate, the brand wants the packaging to be more than just secondary packaging for transporting the product, Arihant said.
The brief for the dark chocolate packaging was: to make the packaging stimulating, descriptive, aesthetically high-end and appealing to a rather mature audience. The packaging revealed selective processing, from the separation to the recording and printing process. Printed on a five color Heidelberg press, the cartons were also processed on an offline Heidelberg anilox coater and screen printed using a Sakurai screen printing press for high deposit embellishments. Two lakh boxes for dark chocolate were produced in less than seven days.
The mono carton for milk chocolate, Arihant said, was a complicated first packaging in the industry. The brand wanted a bold presence in a country where chocolates are overconsumed across diverse demographics. There was no compromise on the finish. The packaging was printed in CMYK plus two special Pantone shades, followed by a coat for a matte finish and a special colored foil running through the packaging. A raised UV and 3D/UV embossing effect was created using an offline screen printing process on all branding elements.
For the Five Star Mix cartons, Arihant has transformed the traditional packaging while keeping the philosophy and the illustrative aspect of the brand. The brand was using poor quality grey-backed duplex board, but the company convinced the brand to be competitive in design, printing and finishing to be on par with the best in class. Each carton has been matte laminated, screen printed for a high deposit embellishment. The design was processed with a CMYK plus a special Pantone color. Result: the brand recorded an increase in sales thanks to multiple repeat orders.
The fourth sample, Plantaway Cheddar Vegan Cheese box had a nature theme and green was in the spirit of the brand. The brand had clearly stated that it was 100% sustainable in all respects. Therefore, the cartons were printed on 300gsm Invercote Creato SBS board with a soft touch coating and the embellishment was screen printed.
Congratulations
galaxy shift
Kumar Printers
Multiflex polybags
Packing Parameter
Parkson Packaging
SB packaging

/news/printweek-awards-2022-arihant-enterprise-wins-packaging-converter-of-the-year-(f&b)-56827
PrintWeek Awards 2022: Arihant Enterprise Wins Packaging Converter of the Year (F&B)

https://www.printweek.in/Utils/ImageResizer.ashx?n=http://img.haymarketsac.in/printweek/d960c8db-74a9-46d0-87c4-7b07f3a4f847.jpg