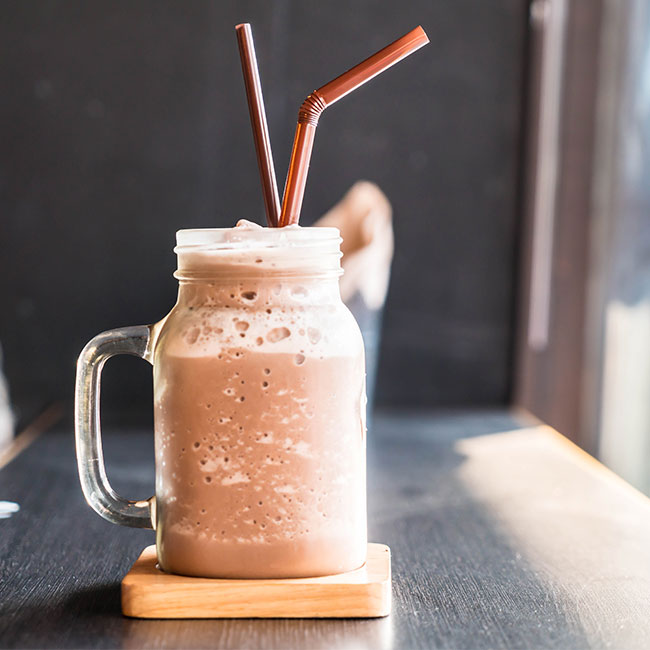 3 tasty shakes you should be making this week to kickstart your metabolism
Along with regular exercise, staying hydrated with several glasses of water, and a regular sleep schedule, the best way to support a fast metabolism is to eat a well-balanced diet. That said, finding recipes that you can make quickly and easily while eating healthy is a big plus for everyone. We've rounded up 3 delicious shake recipes that you can have to start your day or treat yourself to in the evening, and also to promote the healthiest metabolism with nutrients, vitamins and other highly beneficial ingredients.
Win $275 worth of hair products!
Shutterstock
1. Vegan mango milkshake
If you have dairy sensitivities or allergies, look no further! This all-vegan shake has just 3 simple ingredients that you're sure to already know and love to taste when they're all mixed together. Mangoes are rich in protective antioxidants and often linked to healthy digestion, while coconut milk has anti-inflammatory content and provides long-lasting energy to help boost your metabolism.
Ingredients:
frozen mangoes, whole coconut milk and pure maple syrup
Full recipe
Shutterstock
2. Vegetarian & GF Coffee Shake
This coffee infused shake can be enjoyed by vegetarians and anyone with a gluten allergy as it only has 4 easy ingredients and can be whipped up in a jiffy to make your busy day easier. Coffee and caffeine provide enough energy to help boost your metabolism while containing healthy antioxidants. Plus, the milk and dairy products used in this recipe can also be changed to vegan, making this an easily accessible and customizable shake for everyone!
Ingredients:
milk (can be changed to vegan if desired), instant coffee granules, cocoa powder, vanilla ice cream (can be changed to vegan),
4 – 5 large scoops OR 1 and 1/2 cups (220g)
Full recipe
Shutterstock
3. Banana Date Shake
Fruit-based milkshakes are not only tasty, they also contain many essential vitamins and minerals that any fast and healthy metabolism needs. Bananas and dates, which form the base of this shake, also provide nutrients that also help keep your skin and bones healthy! This shake contains vegan milk and butter but can also be adapted and customized to fit your own diet with whatever content you prefer.
Ingredients:
dates (Medjool dates with pits), unsweetened vanilla almond milk (feel free to swap milk of your choice), almond butter, frozen banana, pure vanilla extract
Full recipe